HPA Series
AC Hipots for Factory and Field Testing
Features and Benefits
HVI offers a full line of AC Dielectric Test Sets up to 300 kV in voltage and 40 kVA in power designed
for over-voltage withstand testing for sample or production testing applications. These higher power
AC dielectric test sets are commonly used for testing capacitors, insulators, switchgear, buss duct,
hot-line tools, aerial lifts, bucket liners, transformers and other loads that draw more current that a
conventional AC hipot can output. Specialty models also available designed specifically for motor winding, ASTM D149 testing, or as a power supply for performing Tan Delta, Power Factor, Partial Discharge, or other types of diagnostic testing.
The HPA series are designed and built here in the USA with either oil filled steel or fiberglass high voltage sections with well designed, attractive controllers with all the high end features custom fit to your testing requirements. The high voltage sections are also available for integration into larger custom test systems, like our 50 kV @ 10 kVA HV tank used in equipment for dielectric testing of rubber gloves, aerial lift liners, hot sticks, and other OEM applications.
If lower power models are sufficient for your application, then consider our standard, portable PFT Series of 1 kVA and 3 kVA AC Hipots, available from 10 kV – 100 kV or ALT Series of 7kVA AC Hipots. For applications requiring higher power, see our PAR Series for up to 250kVA.
Matrix of Models/Specs
AC Dielectric Models:
5kVA
Input: 230V, 50/60Hz,1 Ph, 25A
Duty: 5kVA 1 hr. On / 1 hr. Off, 4 kVA Continuous

C1 Contriols: 21" W x 16" D x 15" H. 533 mm W x 406 mm D x 381 mm H
C2, 3, 4, or 5 Controls: 21" W x 25" D x 30.5" H. 533 mm W x 635 mm D x 775 mm H
10kVA
Input: 230V, 50/60Hz, 1 Ph, 50A
Duty: 10kVA 1 hr On / 1hr Off, 8 kVA Continuous

20kVA
Input: 230V, 50/60Hz, 1 Ph, 90A
Duty: 20kVA 1 hr On / 1hr Off, 16 kVA Continuous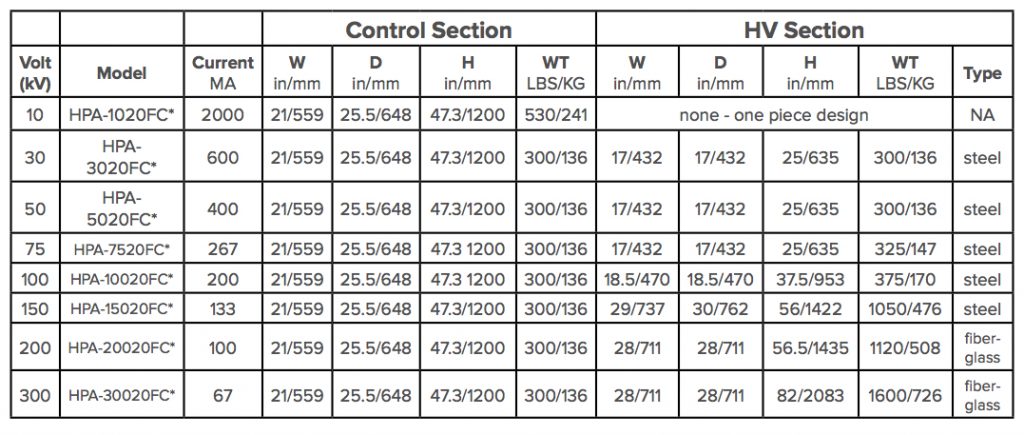 40kVA
Input: 230V, 50/60Hz, 1 Ph, 180A
Duty: 40kVA 1 hr On / 1hr Off, 32 kVA Continuous

*Insert a 1, 2, 3, 4, or 5 to the model number in place of the * to specify which controller, described starting on page 4.
*OPTION: On 5 kVA – 40 kVA models, a 50% voltage tap rated full kVA is optional, consult factory
Consult the HPA Series brochure for the many models and control configurations available. Output cable sold separately.
Notes