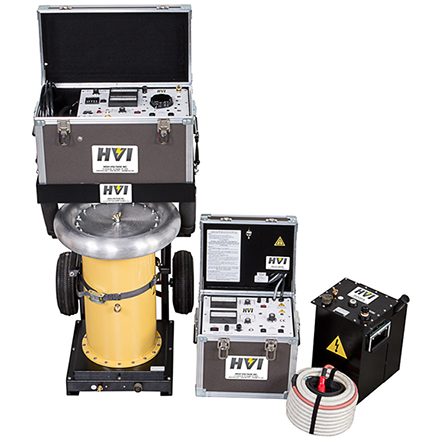 Aerial Lift Dielectric Testing
Dielectric Testing of Booms, Liners, & Fluids
High Voltage Inc, is the leading supplier of high voltage test equipment designed to test all insulating components of aerial lifts and trucks. Whether testing with AC or DC voltage, HVI offers the best in class instruments available for testing booms, liners and insulating fluids.
The ALT Series of AC Hipots were designed for both factory and field testing of aerial lifts and liners but with output power ratings of up to 7kVA they are equally suited for testing other field and substation apparatus. The standard models are rated 0 – 130/60 kV AC, 0 – 210/50 kV AC, and 0 – 300 kV AC all rated for 7kVA. The most popular model is our ALT-130/60 which is feature packed for safety, ergonomics and field testing as it is mounted onto a hand cart for portability.
The PTS Series of DC Hipots were designed for field portability, ease of operation, and safety in mind. The PTS series ranges from 0 – 37.5 kV DC up to 0 – 600 kV DC. The most popular model for aerial lift testing is our PFT 100U which is 0 – 100 kV DC at 10 mA max current. Main features are its small size, grounded/dead tank design and 50ft shielded output cable to easily reach the boom under test.
The HPA Series of AC Dielectric Test Sets ranging from 3 kV AC to 300 kV AC with 3 kVA to 40kVA of output power. These systems are perfect for factory, shop or lab testing of booms, liners or other apparatus. The model shown is the HPA-5010FC3 offering 0 – 50 kV AC at 10 kVA, with up to 200 mA of available current for the factory qualification test of bucket liners.
The DTS Series of Oil Dielectric Test Sets come in 0 – 60 kV AC or 0 – 100 kV AC voltage classes with semi-automatic or fully automatic controls designed for testing the dielectric strength of insulating fluids, in this case hydraulic oil per ASTM D877, ASTM D1816, IEC-156 and other applicable standards. The DTS-60A and DTS-100A are our most advanced models which offer automated controls, computer connectivity and a built in thermal printer.
For more information, view our Aerial Lift Testing Power Point