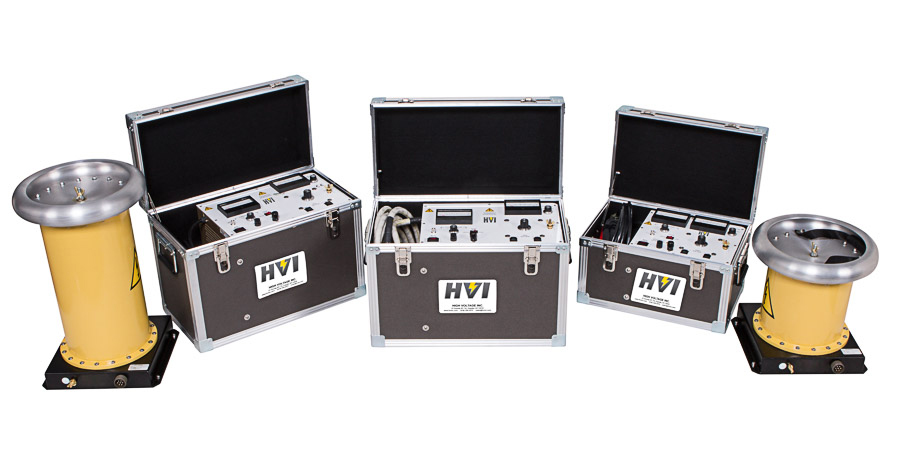 PFT Series
Versatile AC Hipots for Apparatus Testing
Features and Benefits
PFT Series AC hipots test medium and high voltage electrical apparatus: vacuum bottles, hot sticks, motors & generators, rubber gloves, iso-phase bus, switchgear, and other loads requiring AC withstand testing. HVI's AC hipots are among the smallest, lightest, and most economical available while delivering higher power ratings and enhanced features. For example, the PFT-503CM is the only single piece, 50 kV AC @ 3 kVA, shielded cable output hipot on the market. One of our most popular products, it is used worldwide for substation testing and other applications.
Standard models are available from 10 kV AC – 100 kV AC with ratings from 1 kVA – 3 kVA. Some are designed with input capacitive current compensation to minimize the input power required. All have extra durable meters, guard/ground circuit with isolated return, and a three range current meter. Two-piece models are CE marked. All of these instruments are designed to withstand the rigors of field use.
The ABT Series offers benchtop versions of all PFT models. Higher voltage models up to 300 kV AC and higher power up to 40 kVA are also available. Refer to the HPA Series for more information.
Models
Notes
Important: Most of the PFT Series products are not corona free and may not be suitable as a voltage source for partial discharge testing. For PD testing, refer to the HPA Series. These hipots are not suitable for cable testing since the capacitive charging current of any cable exceeds their current rating. Refer to the VLF Series for products suitable for cable testing.
Additional Information
Additional Information