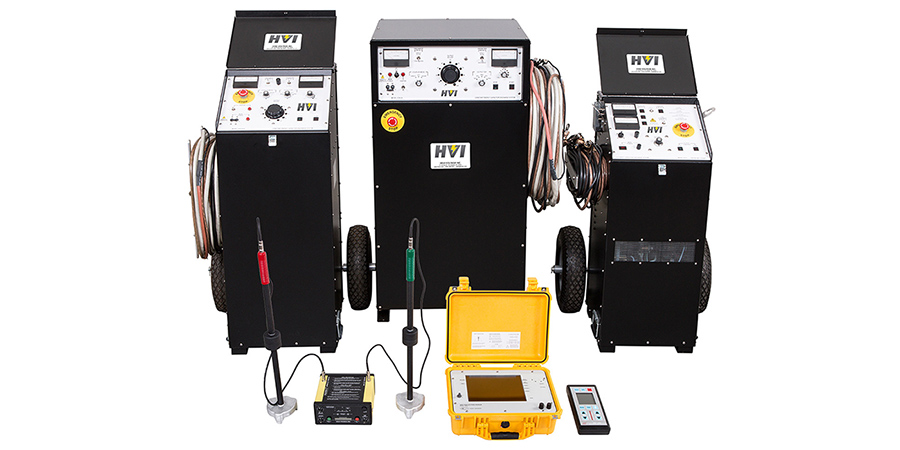 Cable Fault Locators
Cable faults occur frequently. How quickly they are identified depends on the quality and features of the equipment, the methodologies used, and the skill of the operator. HVI produces some of the most versatile instruments for testing and fault locating on medium and high voltage power cables. A market leader in this area, HVI partners with other reputable vendors around the world to include outstanding products for skid-mount package orders requiring equipment not produced in our factory.
The CDS Series (Controlled Energy Capacitor Discharge Systems) includes some of the most powerful and full featured fault locators available, including the industry's top network systems thumper.
The VT-33 is the world's only combination VLF hipot and cable fault locator, or thumper. It is a complete tool for AC testing and fault locating cables rated up to 25 kV and is TDR/radar ready. It offers a 33 kV AC peak VLF output, VLF cable burn mode, and a 760 J discharge output up to 13 kV.
The SKD Series is a product line of custom-designed and fabricated skid mounted packages with all of the cable test and fault locating equipment needed to equip a trouble truck or cable test/repair van to your specification.
Radar Engineers Model 1669 is a portable Time Domain Reflectometer ("cable radar") specially designed for use with thumpers connected to an arc reflection filter for "pre-locating" high resistance (pinhole) faults in buried primary power cables. This product integrates seamlessly with the CDS Series and the VT-33 thumper.
The SDAD from Aquatronics is an acoustic and magnetic/ballistic detector used in conjunction with a cable fault locator/thumper to help quickly isolate faults in underground primary cables.